Debit, credit, and pre-paid cards
Issue unique cards in a matter of days
Leverage your bank partnerships and direct integrations with card networks for the instant issuance of credit, debit, prepaid, white-label cards, and private label cards. Create a completely functional, open API-driven issuing infrastructure in a matter of weeks.
Fully certified card issuing services for most major embosser templates
Sophisticated spending control logic built into credit card processing
Robust fraud prevention partnerships
Fully PCI-DSS certified
Products you can build with our platform
Zero balance network integration
We connect your client's balance to Visa and Mastercard
Visa, Mastercard, and closed-loop
Debit + credit, either Visa or Mastercard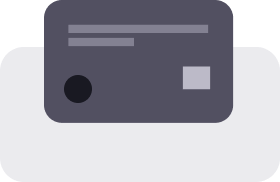 Fraud prevention integration with the best solutions worldwide
Single and dual message authorizations for debit, pre-paid, and credit card processing
Dynamic spending controls per MCC, customer, card, and
more
Online dispute management so your users can do everything from their apps
Life cycle management (billing, refinancing, revolving credit, and renegotiations)
Extensive data
streaming, in real time or in daily files
Instant virtual card creation with flexible expiration and dynamic CVV
Card production integration with the most modern templates
Full CRM capabilities
with our white label app or our APIs
Fully certified for Apple, Google, and Samsung
Pay wallets
Frequently asked questions
How does your payment system work?
Our cloud-based platform offers the building blocks for you to build your card issuing and payment processing systems, and it's very flexible. You can use it for the whole payment cycle or just part of it. If, for example, you already have an account management system in place but lack a card network integration, we can connect you to Visa and Mastercard.
Does Pismo issue cards?
Pismo does not issue cards. But we do provide the technology through which our clients can issue Visa and Mastercard cards. Our platform enables banks and other institutions to create plastic and virtual cards with unique features, all while being fully compatible with Apple Pay, Google Pay, and Samsung Pay wallets.
Our platform also has native integrations with card embossers. If you need a BIN sponsor for your card issuing operation, let us know and we will help you find the ideal partner.
Does your platform have anti-fraud features?
Pismo has partnered with some of the most respected anti-fraud service providers across the globe. Our platform has native integration with these services to offer robust fraud protection.